The bike was purchased and stripped down to the bare bones. The first thing I tackled was the engine, as I love working on them Because everything can be done in my workshop regarding restoration or replicating new parts.
I decided to attempt to purchase any new parts that were needed via Ebay. These were parts that I could not cost effectively make. The first part purchased was a front mudguard from the USA, When received and opened I found it to be an early aftermarket part. My brother who is an electroplater duly polished and rechromed it.
The next part was a rear mudguard from a company in Thailand advertised with an original Honda Wrapper. This part came overseas extremely rapidly and unwrapping it I noticed some creases in the tail end, definitely an aftermarket job using ancient copies of the original Honda tooling "We live and learn when we are new to Ebay".
Some parts were impossible to find such as some chrome fork parts. I had to original monkey metal parts that had metamorphosised into balls of fluff and decided to stuff it, I'll make my own and my brother can chrome plate them. By the way they're made them from steel. The bike was in quite good visual condition until one gets down to the nitty gritty and the perfectionist that I attain to be looks at little things like the steering lock and wonder about Ebay Thailand with their tempting low prices " No restoration is needed here".
The engine is nearly complete, draped in all of it's resplendent chroming and original Honda silver spray all I need to get is some points covers and a couple of other small covers that seem to be very allusive. But I will find them.
The worst thing is to see a whole Honda CB125S bike on Ebay up for grabs at £400 and its got all you want fitted to it, but that's not going to be a challenge. Having down as much as I can without spending mega dollars on obscure bits, I'll get on with the bits that I can manufacture or restore myself IE, The seat that is in quite good condition. You may find that aftermarket seat covers do not have the sponge inserts sewn into the underside for the seat cover. These inserts give the ribbed effect on the upperside of the finished upholstered seat.
I am going to be very fussy about originality regarding the CB125S so I am not going to waste money and time on replating parts such as indicator,lens backs as they are made out of Mazak and when they go pimply they will readily rechrome but the acidic baths that are used in such industries attack the zinc and oxidize it under the plated surface causing pimpling and flaking in a short time. New indicator bowls were purchased from David Silver Spares.When you weigh up the cost of replating it's worth buying them new.
The wiring loom was all intact, original and wanted cleaning and resleaving, the original type of plastic silver grey sleeve is available in the USA. I used grey sleeve and blew it over with silver paint lightly mixed with a thinner that embeds the paint into the plastic, you would never tell the difference.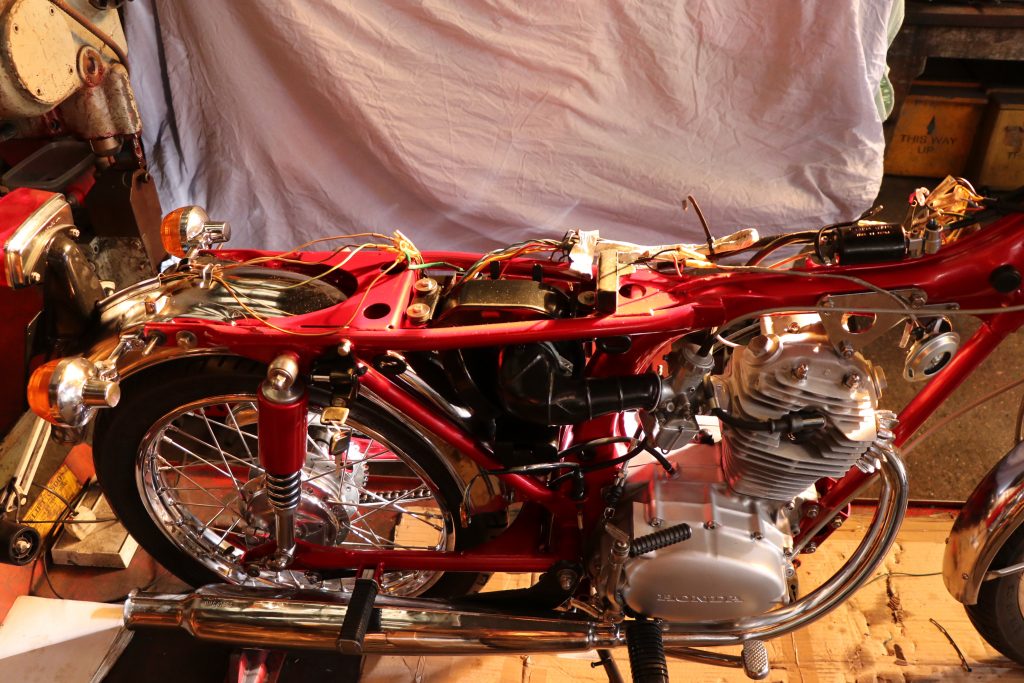 The switch gear internals are a fiddly affair to get right and getting all those wires laying in the right place. Horn button contracts are commonly burnt out and a lot of patience is required to get it working correctly. Honda and Japanese bikes in general have plenty of earth wires so there should be no electrical problems like in British Iron
The rear shocks can be tricky to get back together under the spring pressure without marking the painted surfaces. I made a tool to make this job easy. Regarding nuts and bolts, stainless steel was used throughout and any markings and makers marks were machined off.  You will notice that the exhaust silencer is the early rare trumpet shaped variety and was brand new and original.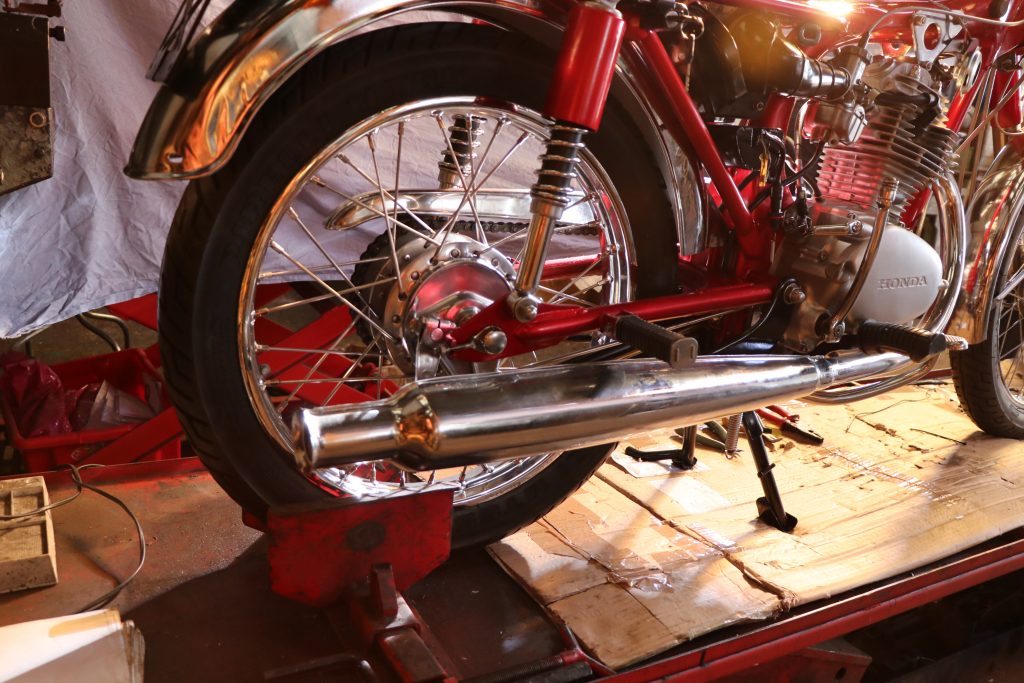 Every nut, built and washer was greased prior to fitting and the wheel bearings were not overly greased, not one part of the bike was missed. Out of interest it took just under 1 lb of lubricant over the whole bike. One can of WD40 and a little Vaseline finished the complete bike. The whole bike has been built to better than new factory specification and is only missing the plastic tool kit bag which i will make to match the knackered originals details. I know that there are aftermarket tool kits advertised for early 1970s CB125S but the tools do not have the right makers marks on them.
All of the workshop manuals I have come across, do not cover all these little things. Restorations done to this standard of accuracy are certainly not cheap and are exceedingly time consuming and a bit of a punt and not necessarily cheap. I have found David Silver Spares cheaper than most parts from Ebay and you know at the end of the day that you will get the right part. All chrome parts such as new rims were preplated with copper, nickel, chrome for longevity.