Ducati 350
My favorite vertically split engine to work on is the single cylinder Ducati. Horizontally spit engine are ideal but not so challenging. As usual separate components have to be set up in the crankcases and checked for end float, there's no getting away with the procedure if you want a sweet engine that doesn't miss gears and behaves its self for a very long time.
The 250 and 350 Ducati motors are the choice of the classic racing enthusiast as there are big steps that can be made in performance with moderate tuning. Due to a strong Ducati racing brigade in situ this has kept the suppliers of good aftermarket parts in buoyancy providing some hot parts that will tune your duke to todays classic racing winning recipes what I'm saying is, what's on the market for classic racing Ducati's available due to the Duke being the classic bike of choice albeit in the UK.
I race my bikes over the channel in Holland now but I will save this bit of info for a later blog. The Ducati came to me with a budget attached to it on the restoration costs. The only thing I could do is give the owner my painters details as well as my chrome plater the only problem is it's not going to save him any dosh as he has to do the running around delivering and picking parts up. If I was to take his frame to the painters it would go with at least a couple of other customers frames and I would get discount on volume. Hence saving the customer some money. Chrome plating is what it is, costly and slow and with very little mark up on my part other than getting a little financial bonus on getting it done fast. At the end of the day when your restoring a bike you shouldn't be put off if your the restoration company to divulge your supplier base as your supplier is going to be instructed via a letter from your company that you have appointed them to carry out mister blogs paint work, the only discount that will be met is off the back of what was supplied the painting, company with in the past.
The cost is in the donkey work IE; Putting it together properly with no bodges my customer got his frame shotblasted and primed and powder coated. I have yet to find an original Ducati frame and components, "primed". Frames that are primed prior to powder coating usually attract 60 percent addition on costs. The chrome plating that I give out is done by a friends neighbor who owns a chrome plating company who is VAT registered, all I can so is push his chroming through the fastest I can like everyone else. "So no savings here" I thought it a good practical test on my behalf to see if the customer would save any hard earned pennies as I'm sure he cannot as I do not mark up costs on work that I have not carried out.
A big saving was in restoring the speedo and rev counter as I do them at home on the kitchen table with all my tools listening to the radio and it is done as a challenge in my own time. And I achieve perfection. The donkey work ensues with clearing out the primer and paint from the swinging arm bushes that hadn't been masked. If it was me they would have been blanked off with a wood turned bung. Primer is a bugger to remove. Prior to putting the finished engine back into its frame you will have to clean all the bolt holes in the front mounting brackets and the rear engine mounts with a good sizes reamer or drill but as the bolts are a close fit in the holes and will not fit easily and will leave you struggling with the aid of a hammer.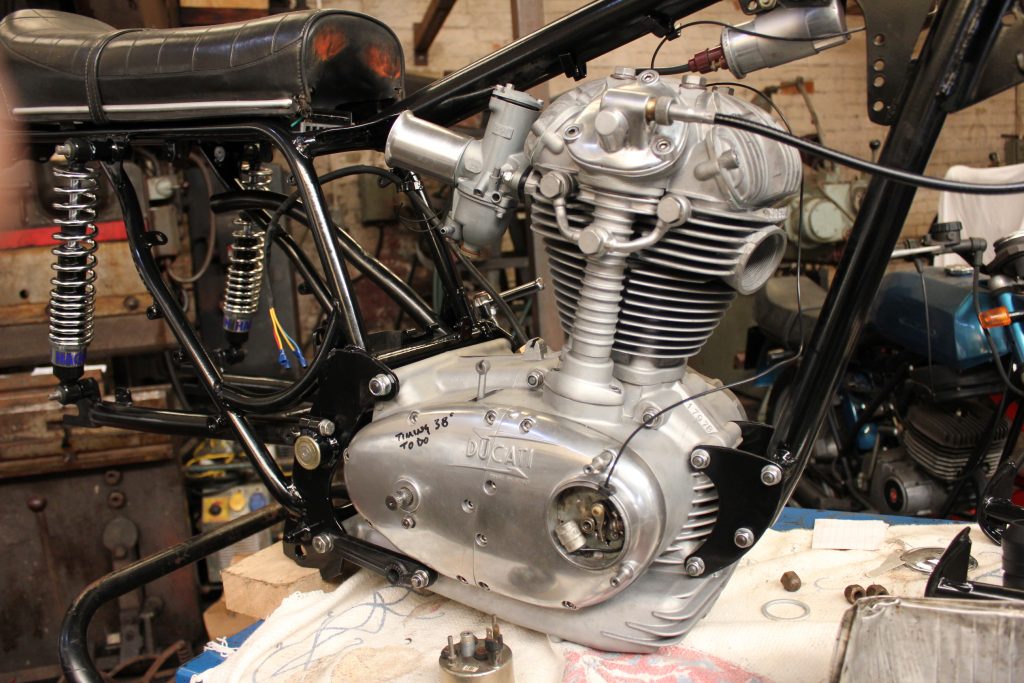 Don't forget to use plenty of grease when putting stuff together. prior to settling the engine in its place it is best to get the forks, yolks and steering damper fitted as the frame will sit quite happily with a piece of wood slotted under a rear down tube bracket just behind the rear engine mounts. I also use a ratchet strap to hold the frame firmly as it makes less of a wrestle for getting the engine linked up to it's rear mounts.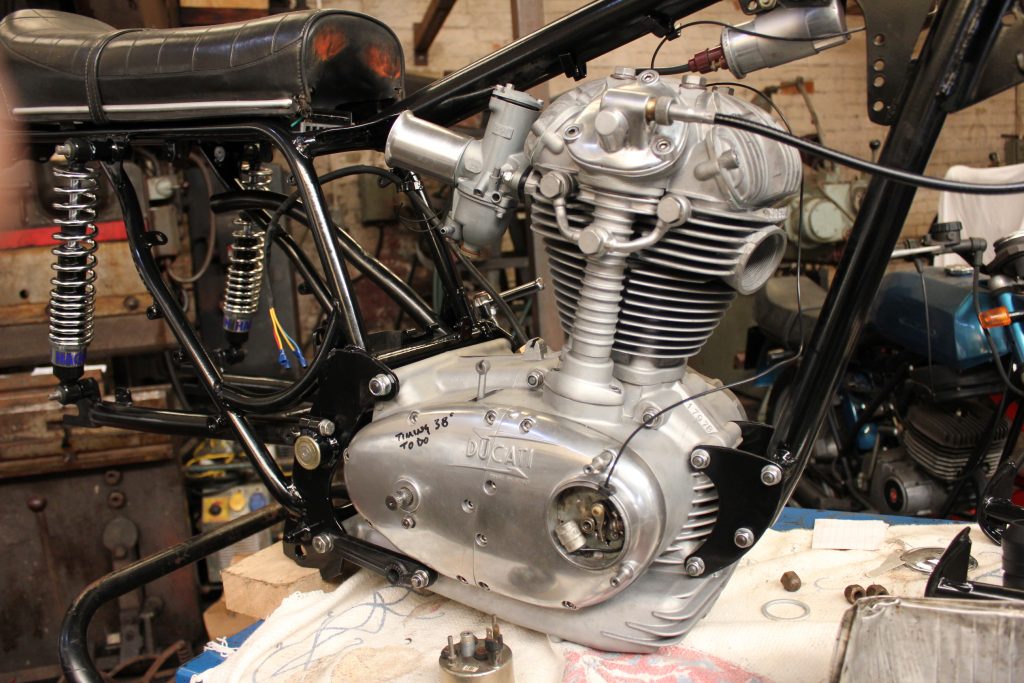 The engine is now in the frame and I have just fitted the rear Hagon shocks that the owner took a bit of time getting but I wasn't going to let anything from holding me up. The seat ideally wants recovering but the owner though otherwise.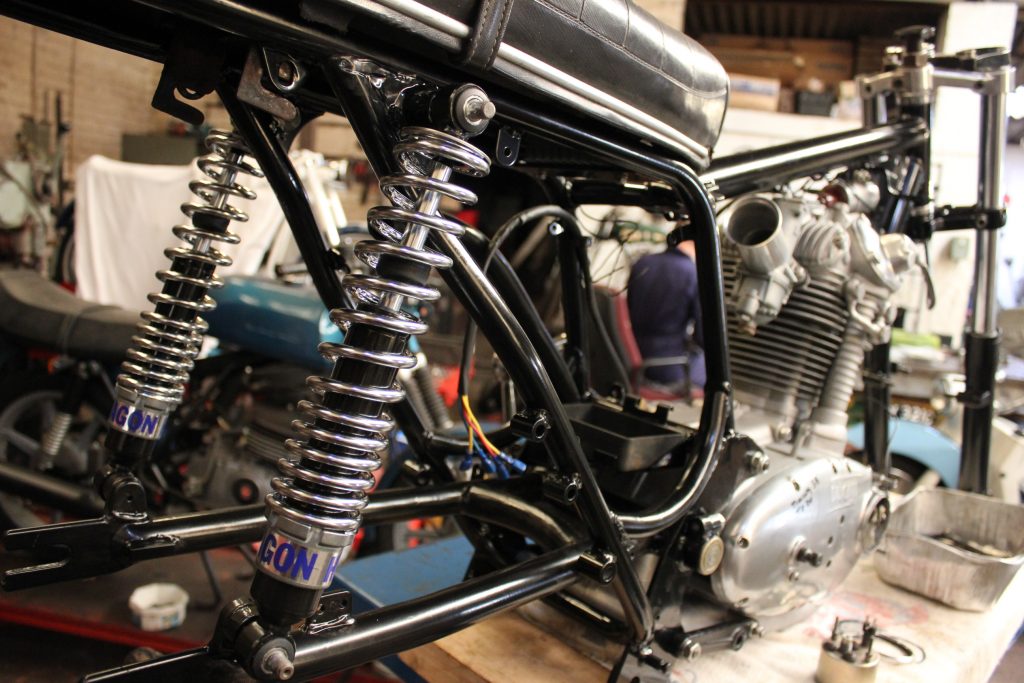 When running a restoration company you should have several projects in action at the same time and you will have to jump off of one project and onto another so you can fullfill a good solid day of work instead of waiting for the paint to dry. In my business we are always solidly booked up but we won't turn a job away no matter how small, it just means we will have to put more hours into the day.