Here is a typical diagnosis case carried out through Emails for a customer.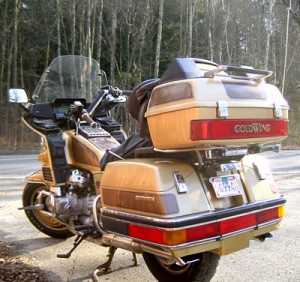 Date:  2014-10-21 17:01, David wrote
regarding an engine rebuild on a Honda Goldwing limited edition GL1200 injection 1985, the problem was doing 80/90 mph smelled burning oil and blue smoke coming out the exhaust if that helps. If possible if you have any idea could you give me a price please?
Date: Tue, 21 Oct 2014 22:46:51, Terry wrote
hi David you may have heard the saying, "sounds like rings have gone". I think this is the problem. But before you go any further check that all of the engine breathers are perfectly free of dirt or oil. I have seen gummy oil in breather pipes that will cause this problem on many bikes and most engine restorers will be happy not to tell you this so that they can make a fortune. Did the smoke sort of suddenly come on or has it been getting slightly smellier and smokey over a period. This is important for me to know so I can give an accurate diagnosis.
Date:  2014-10-22 14:57, David wrote
Hi, there checked the breather pipes they are all clean and dry, the plugs all look fine. No smoke when starting up, smelled the smoke and burning smell it only happened the once when doing between 80/90 mph. Haven't been up to that speed again to see if it happens again. The oil temperature and the water temperature went high at the time. There is no oil in the water and no water in the oil. I would like to sort the problem as im taking the engine out to do the alternator and clutch and do it all at once while the engine is out.
Grateful for your help, Dave.
Date: Wed, 22 Oct 2014 21:32:17 Terry wrote
Dave check your air filter for over oiliness. These bikes do not like being overfilled with oil at anytime. when the engine has too much oil in it, it will pass a certain amount back to the air filter, an oiled filter will not produce smoke at low revs as the air intake velocity is low, when the revs are higher smoke will be produced as the air velocity is a lot higher, this will cause oil molecules to be drawn away from the filter and into the carb intakes. Check it out and report back.
Cheers ,terry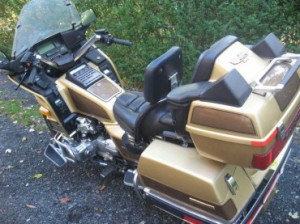 Date:  2014-10-23 13:04, David wrote
Hello checked the air filter its clean and dry looks like new. Had
the bike about 12 month done 3000 miles on it the air filter was I
when got the bike so don't know how long it's been in hope that helps
many thanks ,David
Date: Sat, 25 Oct 2014 23:24:39 terry wrote
Dave the next thing to do is compression test it when the engine is
cold, if this checks out to be ok I can be quite sure that it will be
the valve guides that need looking at. What grade of oil are you using,
is it to the correct spec. I am leading you in the right direction for
you to get the most cost effective solution. Cheers terry
Date:  2014-10-30 15:58 David wrote
Hiya terry do not know what oil was in it as it was freshly changed when I got it did the compression test cold reading was 60 psi on all cylinders on second turn was 65 psi on all cylinders many thanks dave
Dave never got back to me with any feed back so I think in this case that the valve guides were worn.