A customer approached us with a damaged gooseneck assembly from his 'Vortex Laser' assymetric racing dinghy. The damage to the fitting was caused when the boom swings over too far and attempts to pull the gooseneck from the mast. After a few of these mishaps the whole assembly gets badly distorted and the retaining mast rivets become loose, so adding to the problem.
 Looking at the design of the assembly it found to have a very small bearing area on the mast, so obviously this had to be increased to spread the load. The whole assembly also needed to be a lot stronger using thicker stainless steel and adding some cross members. All the customer had to supply was the old gooseneck assembly and a template of the mast section, where it was originally mounted. As you can see in picture no.2 the new assembly is a lot stronger and more substantial, giving a greater bearing area on the mast and only being marginally heavier than the standard item.
The new assembly has also been constructed with full weld runs rather than the tack welds employed on the standard item and uses 10 rivet holes on the mounting plate instead of the original 6 holes (see photo no.3).
The product was manufactured by laser cutting the profile shape and TIG welding the components together. The whole thing was then aqua blasted to give it a clean satin finish. The last two photos below show the gooseneck assembly fitted to the mast and boom ready to compete in the 'Construction Industry Sailing Regatta' at Rutland  Water.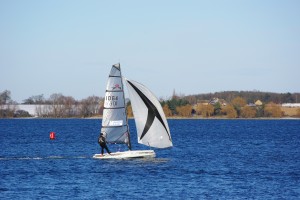 by Terry Ives