This is a new fuel tank made in mild steel with distressed paint work as requested by the customer to match the existing paint work on the rest of the bike. all of the original fittings and fixtures were removed from the old tank and fitted to the new one. This particular tank is for a 1913-1914 New Hotspur JAP single cylinder side valve model manufactured by Strutter and Abrey of Tottenham.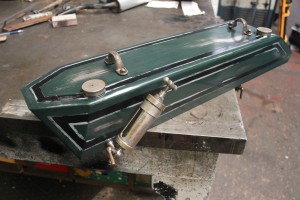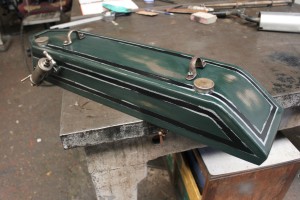 (from Alex)
Hi Terry
Please find attached as promised photo's of the petrol tank fitted to
my veteran motorcycle you made. It is a perfect fit and looks great.
It looks far better in real life than it does in the pictures. Thanks
very much.
Have a problem now 12 motorcycles all taxed/tested and running ok,
just one non runner, only bought a month ago and not used since 1970
but that should be going before the end of the year.
Did you hear again from the Irish? man who had the old V-twin
Indian/Harley, or was it someone just talking a load of crap as usual?
Merry Christmas
Alex
(from Terry)
Hi Alex sorry for any probs I caused you, I do try to do my best.
Amazingly the Irish gentleman was true to his word, he phoned me 
exactly on the last day of the second month as promised and he said
he would meet me at the workshop in one hour as he was on his way 
back from good old Ireland. Almost exactly one hour later he was 
there banging on the factory door, his rather odd son was with him.
Have you seen one flew over the cuckoos nest, pick the weirdest one 
out of the film and this fits the picture. Anyway he asks for a real 
strong cup of coffee as this was my payment for the bikes as promised 
on the first day we met on my forecourt. it all sounds a bit weird I 
know, but bare with me. anyway we bundle into the van and go to Milton
Keynes as promised. true to his word there was a lovely but clearly 
dilapidated and neglected old house that his 98 year old father had
left him in his will. you can imagine how excited I was that we had 
got this far. I didn't want to show this to him or his son as they 
might renage on there promise that what was in the home built wooden 
slatted workshop at the back of the house was going to be free as 
long as I got rid of what was in there. He decided to show me around 
the internals of the house and then we went out into the grounds, 
all 2.5 acres of it . He kept on moaning that his father had left him 
a burdon of a house  to deal with in the uk as he had properties that
he was renting out and looking after in Ireland. I was sure he was 
stretching things out as we slowly meandered across the overgrown 
lawn. At Effing last  we were in front of the overgrown 
parralelagramme of a shed, believe me it was leaning to one side. 
He opened the door that was not even locked, this was surprising as 
what he said was in there was in my mind worth a fortune but in his 
mind was a load of rusty crap. The shed was jam packed with stuff, 
I didn't know where to look first.as we made our way, me leading and 
his old boy waiting outside on his old mans orders through what he 
thought crap and I thought King Solomons mines. There it was as he 
said Indian V twin 1912 engine number E171, the Harley Davidson as 
he said, was a nickel plated tank brough, underneath all the shit, 
old seats and belt drives, tucked or jammed underneath a bench was 
a Henderson inline four. there was a complete bike with crocker 
written on the tank. A garelli double piston racer from what I read 
on the ticket tied to the throttle,  looked like this had been bought 
in an auction many moons ago. His old man obviously had money and a 
passion for collecting bikes but never doing them up. 8 pickups and 
drop offs later and about 200 quids of petrol., ive got it and am 
glad to share this message with you. its nice to get something for 
lending an ear and a bit of time to a passing stranger who you think 
is full of bull. what I have is premium stuff but at the right price 
I will be willing to let some of it go except for the Henderson as 
this was a dream find. I am glad to share this with you as you are
the only person who remembered the Irishman. cheers terry
(from Alex)
Hi Terry
Thanks for the long reply. Yes I would be very interested in
something, mostly I want an inline four but they are not cheap and as
you said, that is yours. Would it be possible to come and look
Christmas week please? I think I have to collect a Model T Ford from
Dartford one day that week, but not sure exactly what day. The boat
with it in landed on Friday and it has to clear customs first. Will
give you a call.
This is the first time I have ever heard of anyone actually getting
all the promised treasure. My friend who made a new fuel tank for his
flat tanker himself was absolutely amazed when he saw what you had
done, you cannot believe how pleased I am with it. It looked so
fantastic when I first picked it up and I was that overwhelmed with
the sight of it that I did not make sure it fitted correctly (all my
fault), we'll never mind all sorted perfectly now.
Regards
Alex
(From terry)
Hi Alex what do you think of the story, mouth watering isn't it?. 
only a pipe dream as the guy was full of crap. have a good Christmas 
and new year. cheers terry
(from Alex)
Hi Terry.
You rotten b#*+=! You had me all excited, I even showed the email to 
the wife and looked how to call your way on the way back from Dartford 
next week. I expect you have had a good laugh at me. Now I will tell 
everyone now what a shit job you did of my petrol tank.
My friend saw the tank again this morning an said what a wonderful 
job you had done of the tank. Thanks again for doing a good job.
Merry Christmas and Happy New Year to you
Alex