A customer approached me with a gearbox problem and initially I thought great, just the sort of job I like. I love working on gearboxes, understanding how all the internal parts work and how all the different selecting methods operate to obtain a given gear.
As we walked over to his car to collect the gearbox from the boot he said "you're going to find this rather challenging". This should be interesting I thought. We collected two boxes from his boot an placed them on the big surface table in the workshop. He opened the first box and bought out a 1926 Clyno gearbox, which was very heavy and build like a brick shit house. It was heavily cast in aluminium with the gears and shafts being made to last a lifetime, but very simple inside. It was a three speed and reverse crash gearbox. The splined input and output shafts were big enough to drive a Sherman tank.
The second box was opened and he pulled out what I immediately recognised as a robin reliant gearbox. "Can you make this into a Clyno box" he says. This is not something I'd done before. I've made a couple of gearboxes from scratch before, for 50cc racing bikes. I asked him why he wanted to change the box. "I want four speeds with a synchromesh" he replied. The synchromesh will transform the car as the gearbox works in such a way that there is no grinding of gears on selection of a chosen gear. Older gearboxes, that are known as crash gearboxes require a certain amount of coaxing into gear at certain engine revs. If you try changing gear with no clutch it's a similar action.
After some examination I said "yes I can do something for you". He left them with me so I could strip them and give him a price for the work. I studied both of them for quite some time, thinking of the best way to do the conversion. My first thought was "I can cut the bell housing off the reliant box and it will give me the basic shape of the Clyno box, well that's a start". The input shaft was very similar, the output shaft was considerably different. Whatever fits the output shaft was going to have be drastically modified. It would need some spline cutting skills and this was just the beginning.
I gave the customer the quote and was told to "get on with it", with hopeful undertone in his voice. After two days I had a working gearbox with all the modifications required, plus some added extras to strengthen it and increase service life, such as outrigger bearings and double seals. I phoned the customer and said "its all ready for you". He duly picked it up and fitted in back into the vehicle. Clyno boxes are awkward to fit and it took almost a day.
There's nothing worst than getting a phone from a customer call after you think you finished a job, it usually means there's a problem. Luckily we don't get too many here, but truth be told I was expecting a few teething problems with this modified gearbox. In this case it was the customer saying "I didn't give you the axle tube!, can you make a few mods?". No problem. In came the gearbox and axle tube for modification.
Work complete the customer refitted the gearbox again. Two days later I got the call from a slightly irritated customer saying "I can't get the gears to engage". Next day the box was back on the bench. After going right the way though it I found it was binding on gear selection. Robin Reliant gearboxes in there standard, unmodified form are quite awkward to work on, as there are some small ball bearings that will pop out of the synchromesh if it is not set up right. Slightly misaligned gears, worn selector forks or worn spacers and bearings can cause the ball bearings to come out of their housings, making gear selection impossible. The problem was the gears were misaligned by about 1.5mm, so this was rectified with a spacer. The spacer caused other measurements to be thrown out by 20 thousandths of inch. This was solved by making a shim for the output shaft face, where the axle tube bolts on. Problem solved!, all of the measurements taken from the Datum Line central to the gearshift lever were within a few thousandths of an inch.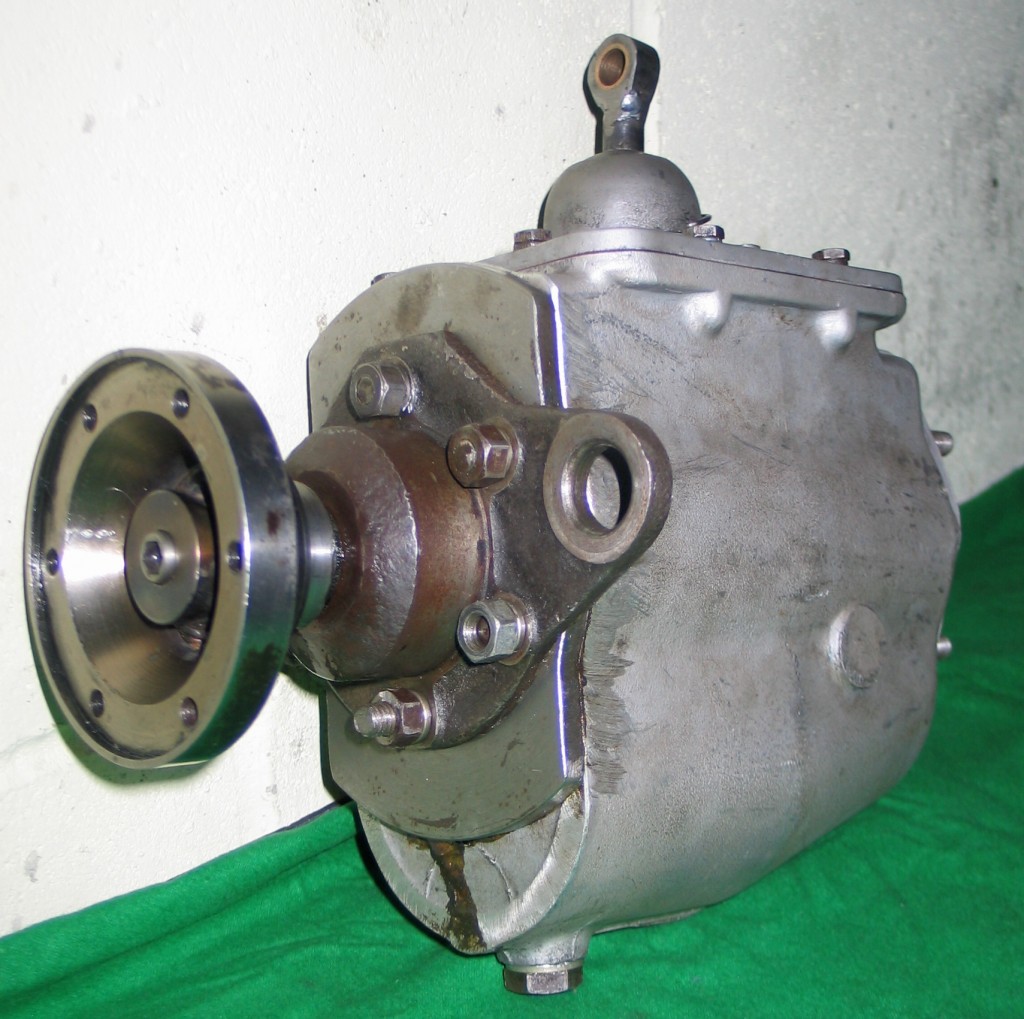 In conclusion a very interesting job, which as the customer said at the beginning " a bit of a challenge". Previous to the customer bringing this engineering problem to me I had not read much about Clyno cars, but after some web searching I found it was one of the leading car manufacturers of the 1920's. The Haynes manual I found to be of no use when working on the Reliant gearbox as it does'nt give any running clearances and setting up instructions.
By Terry Ives