What different types of lawnmower are there?
Cylinder & Rotary mowers are the most common types of lawnmower used today. These two mowers come in many guises, the cylinder type mower is either, an electrically operated one or is mechanically operated via a petrol engine, they are also drawn by a tractor or quad for mowing golf courses and football pitches, these are usually called gang mowers. Cylinder mowers can also be hand operated. Rotary lawnmowers are operated in just the same way as mentioned above.
How do cylinder mowers work?
Cylinder lawnmowers have several rows of blades that move in a rotary manner, as each blade rotates it comes into contact with another bottom fixed blade, when this contact takes place the grass is sheared off between the spinning and fixed blade.
How do rotary mowers work?
Rotary lawnmowers have a single blade usually with two cutting edges, they are housed inside a close fitting casing and they spin in a rotary fashion.
What are cylinder mowers used for?
Cylinder lawnmowers are employed in the service of fine cutting lawns, such as bowling greens and golf course greens as well as football pitches.
What are rotary lawnmowers used for?
Rotary lawnmowers of Flymow's hover as they are commonly called are generally employed for rough ground and fairway cutting. They can also produce a very close cut lawn as long as the blade is kept in very good order, some of the cheaper versions have plastic clip on blades.
Electrically operated lawnmowers
Both cylinder and rotary mowers are available.
Petrol powered lawnmowers.
As above, but they have more working parts.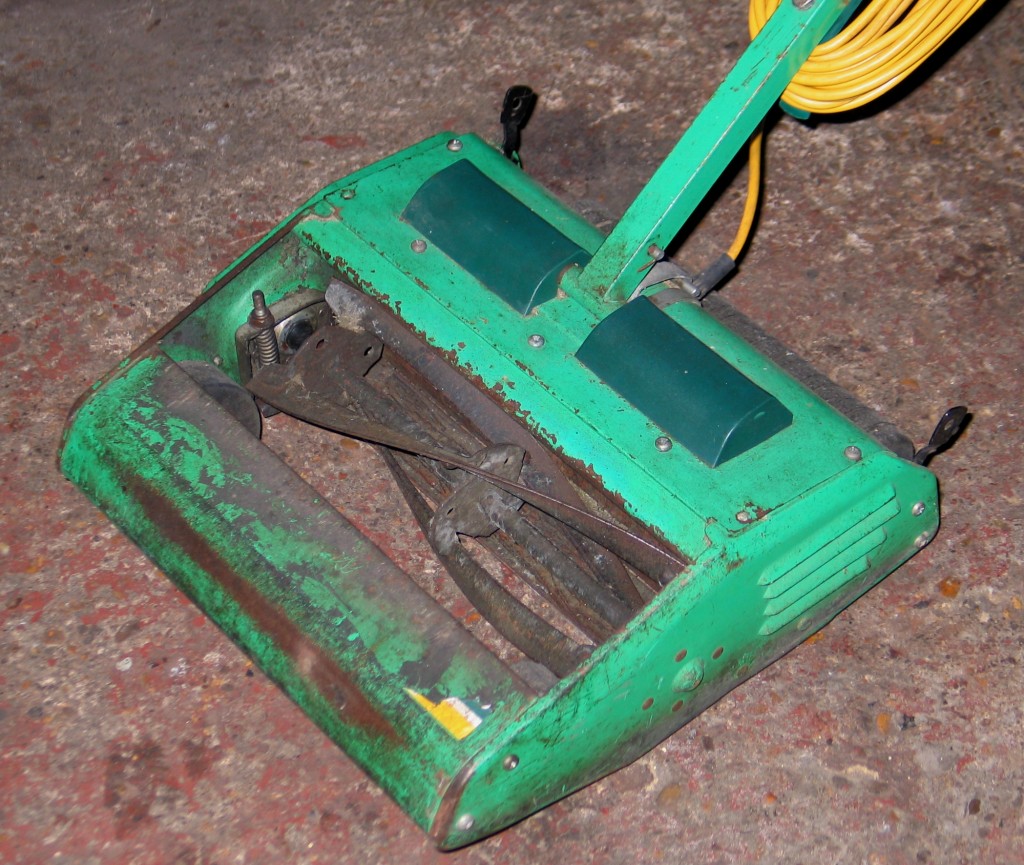 What are the benefits of cylinder lawnmowers?
Cylinder lawnmowers have a finer cut, as the grass when compressed in between two blades, one rotating and one fixed is sheared or sliced. When the top of the grass is sheared or sliced a cleaner cut is achieved. During hot weather there be little browning of the cut tips of the grass. Hence the use of cylinder mowers on bowling greens and golf greens.
What are the benefits of rotary lawnmowers?
Rotary lawnmowers are very forgiving, they will put up with rough treatment.
What are the disadvantages of rotary lawnmowers?
Rough treatment is the operative word, as these mowers are not used on fine treatment of lawns as they produce a decapitating affect on the grass stems and when the blade gets blunt they produce a ripping affect on grass stems and in the summertime this ripping affect produces a brown topped lawn.
What are the disadvantages of cylinder lawnmowers?
The servicing of cylinder mowers is more critical as cutting or shearing clearances have to be kept in order. These mowers are prone to damage on rough, course stoney ground.
What mower to choose?
Look at the base soil that your grass is growing on; if it is stoney you will have a weak, thin lawn. It will be prone to browning or burning during the summer.
If your lawn is shady and of a sandy base soil, I bet it will be packed with moss.
If your lawn has a thin layer of top soil over rubble, as many modern homes have, they are prone to drying out due to excessive drainage of moisture.
The mower to choose is a cylinder mower for the above, they are more expensive, but they are kinder and more forgiving for the aforementioned soil conditions.
Cylinder mowers have a roller that trails the cutting blades. The roller settles stones, moss and rough base soils allowing the blades to work on the grass.
Flymo's or rotary mowers, if used on these soils and conditions are of no benefit unless fitted with a heavy roller that trial the cutting blades.
The best range of rotary mowers for cutting grass on all base soils are petrol driven mowers as long as the blades are kept sharp. The petrol driven cylinder mower is by far the best machine to purchase. It has a lot of weight because of the engine and this will produce a flat compact precision lawn that is not prone to moss invasions as long as the lawn is cared for by feeding, aerating and weeding.
Purchasing a lawnmower
40 or 50 years ago a new lawnmower would have been a real luxury as the rotary mower hadn't been offered for sale to the general public in the UK. Nowadays the general public are bombarded with rotary mowers as they are low maintenance and have fewer working parts particularly if they are electically powered.
But please bare in mind that these lightweight mowers are not going to last anywhere near as long as the motor powered cylinder mowers. Rotary mowers on the other hand are very manoeuvrable and a lot lighter, being ideal for the single mother or old age pensioner or even the small lawn.
Electrically powered rotary mowers are generally not worth fixing as a lot of the operating parts are encapsulated within seated modules and these modules are expensive to buy when we consider how much the mower costs in the first place. When these go wrong they usually find there way to the recycling centre.
Petrol powered rotary mowers are an excellent choice for medium to the largest of lawns but they are a lot more expensive. These mowers, if correctly maintained, give very little trouble and if spare parts are required the market is flooded with them and they are not expensive. Rotary mowers no matter how sharp the blades are will not give you the perfect lawn if this is what you are looking for.
Petrol powered cylinder mowers are the most expensive mowers on the market but they do give the perfect cut and will last a lifetime as long as they are regularly serviced and maintained.
Spare parts are readily available for these and parts can be acquired from lawnmower clubs for the 60-70 year old mowers.
We at Stotfold engineers service and maintain all types of lawnmower, from the most modern to the oldest of machines, even some of the push mowers for cutting the grass on knot gardens and edging mowers that are fitted with scissor like shears, we all caiter for them all and if a part is not available we have the added advantage of being able to manufacture it in our machine shop.
When you purchase a lawnmower the choice is your, whatever you buy it will need basic maintenance by you, such as cleaning and oiling just as you would you car.
Hints and tips on basic lawnmower maintenance
Whatever type of mower you buy it will need oiling and cleaning. Wheel spindles need oiling every couple of times it is used, don't use WD40, use some engine oil and save the WD40 for throttle linkages and hand controls.
Some people seem to like cutting damp grass, after cutting damp grass pitch the mower, if it is a rotary one, on its side and clean all of the wet grass from inside the blade housing with some sort of scrapper. Wet grass when dried is difficult to remove and it affects the machines performance.
After using my mower I do these basic things and then wipe everything over with an oily rag. Storing you mower is important, if it is a petrol driven one do not stand it up on its end to save space in you garage as this can cause a lot of problems such as oil in the engine getting into the cylinder head and onto the plug and inside the carburettor. Most of the mowers today have fold up handles to save space, use them. If you follow these basic tips then you will have very little go wrong with you lawnmower.
"I need my lawnmower servicing or repairing"- what can I do?
Bring it to Stotfold engineers or we can pick it up free of charge. We service and repair all makes and models. We supply and hold a large stock of parts. We normally provide our customers with a next day delivery service. Everything we do is done in house, not subbed out. We supply and sharpen all types of blades. Our costs are generously 20% to 30% cheaper than other mower services.
By Terry Ives