When we require a classic motorcycle restoration to be undertaken by an 'expert or professional' motorcycle restorer we have to expect the complete job to cost more than the classic bike is worth. This is a very common occurrence. There are ways to bring the cost down and keep them under control to make the job more cost effective.
Motorcycling is a passion to many and to keep a motorcycle in working and running order it can cost, over the years, many times more than the bike is worth. A 30 year old bike may have had a couple of re-bores with new pistons to suit, new valves & guides, new bearings & bushes, brake linings, as well as all the usual stuff that wears out like tyres, chains, sprockets, brake pads and lubricants. When we add all this up a £1000 bike has had at least £2000 spent on it. We don't seem very conscious of this expense due to it being incurred over a period of time.
Say you own a Triumph T140 Bonneville that wants restoring. The complete bike has been languishing in a leaky damp shed and covered with a tarpaulin causing it to sweat, or maybe you you have just purchased it as an easy restoration project. You take the engine out and think about giving it to a specialist Triumph restorer, but before you do this bare in mind what I am going to tell you.
The Specialist
Firstly before you hand the engine over to the mark specialist it is worth bearing in mind that all engines work basically in the same way; they have a spark generator, pistons, con-rods, crank, and  cases which sometimes have an integral gearbox. The mark specialist knows his engine building off by heart, he does not need the 'Haynes' manual and he will bill you for his ability in not using one. His restoration job is easy, he may have a stock of secondhand as well as new parts he has bought in for future rebuilds. All these parts are paid for through your engine rebuilds and he can put in any parts either fine used or new into your engine. Who are you to argue as he is the specialist. The ball is in his court because whatever he says about the engine he has rebuilt for you, he is right in every way, including the bill. Why do people become specialists? Well in my opinion it is the only engine they know how to build or they are catering for a captive market. If it is the only engine they know how to build then they have a very limited ability and are incapable of venturing out of their skill base. If it is for a captive market, it can only be for money.  We all have to earn money and make a profit, but think, the specialist is usually a limited supplier of new parts. He often does not produce the parts himself and will mark up parts by 100% that he has bought in.
The thoroughbred engine restorer has studied engines, how they work and if need be how to tune them to get maximum performance or to their customers specification. He can work on any engine, they are all basically the same, but if he gets stumped can always look it up in a manual, on the web or can use his skills that he has acquired through books and technical college to resolve the problem.
If one is to specialise in one particular engine he will have a very limited amount of tooling. The tooling will comprise of all the factory kit and maybe some special tools that have been made to the builders requirements. He will have a basic fly press for pressing bearings and bushes in & out of cases. He may have an oxy-acetylene torch for heating up cases and welding up broken pieces of frames. A lathe, albeit a small one, probably a bit bigger than a model makers to turn up bushes and guides. This is what is needed bey the specialist, but what happens when he needs a barrel relining to standard, re-boring and honing. Where is he going to send the crankshaft that needs about 30 tons per square inch to push the big end pin; to the crankshaft specialist. What happens when he needs a two stroke cylinder liner replacing on a high performance racer and the ports have to be replicated to the standard tuned opening times, you guessed it; the specialist in this field. All the specialist input racks up the bill to the customer.
Case study No.1

(stories from our customers)
A customer gave a petrol tank to a classic motorcycle restorer for restoration. He sent it out to a specialist tank restorer. They did all the work of lead filling, chrome plating, painting and lining the tank. Six weeks later the tank was given back to the customer with 100% cost and VAT added. The customer was happy with the job , but ignorant of the real cost. Moral of the story is if the customer had spent a little time looking for the specialist tank restorer he would have paid alot less for the same job. Looking on the web, classic motorcycle magazines or word of mouth are starting places. Obviously asking if it was going to be done in house is also a good idea.
Case study No.2

(stories from our customers)
A customer takes his Norton Commando to a motorcycle restorer. He tells him there is a slight misfire at high revs. Restorer say he will look into it. He returns to collect the bike and is give a bill for £427.53.  Hells bells!!! for a misfire. New parts are coils, Boyer ignition system, HT leads and plug caps. Twelve and half hours labour?
Unfortunately not taking the hint after the first bill the customer goes back to a motorcycle restorer because it is running poorly again. He tells the restorer it does not seem to run smoothly and the electric start seems noisy. Restorer says no problem I will sort it out. He returns to collect the bike and is handed the bill for £490.48. New parts spark plugs, needle jet, main jet and sprag clutch. This time 14 hours labour! Smacks of someone just bolting new parts on until the problem goes away and how often to replace a needle jet on a Mikuni carb!
Finding the right people
Lets look at the engine. If you could find a workshop that does precision engineering with a mechanical background as well you would probably find they have made parts such as percision crankshaft parts and have fitted special sized plain bearings into crankcases. Basically what I'm saying is you don't need to go to the one mark specialist. If you have a classic bike and it in need of a full restoration, do what is most cost effective; find the tank restorer, find the cylinder refurbisher, find the frame striaghtener & weld repair specialist, find the cylinder head restoration company, look on the web and search for that aluminium welder to repair your crankcases, download information on local seat restorers.
You may be lucky enough to discover a local company that will do most of these things, including wire wheel building and classic bike electrics. If you do find one you will be quids in on your restoration project, because a company that genuinely say what it can do in house is going to get enough work from your restoration project at a reasonable profit and will not be afraid to divulge what they cannot do. They may also point you in the right direction or recommend a specialist in crank grinding or local paint sprayers for example. After all classic motorcycle restorers all know each other in one way or another and know of the specialists who carry out the work that we cannot do or do not have the knowledge or specific machinery to do.
When you approach a classic cylinder head restorer you will evidently see the associated machinery to do the job. He would be pleased to show you how the machinery works and some work in progess or completed. He should be happy to do so, as you are a prospective customer and he make a living from you, so your experience will generate more work for him by you telling others how good he is. When you walk  into a motorcycle seat restorers workshop you will expect to see vinyl's,leather cloths and industrial sewing machines throughout. But if you walk into a classic motorcycle restorers workshop I bet you will not see a chrome plating shop, a person building wire wheels and someone on a lathe making crankshaft parts. All these specialist fields are undertaken not by the classic restoration company, but by specialist is their respective fields and this will cost you as the classic bike restorer marks the stuff up as the middleman.
The restorer who says he perform complete restorations is talking a load of bull. He would be a lair as we would if we said Stotfold Engineering can cast you a new crankcase, but we know someone who can and would be happy to point you in that direction as long as you gave us the opportunity to quote on the machining of it.
As I said previously if you can find a company that can carry out most of your requirements in house you are lucky. We at Stotfold Engineering consider ourselves to be one of those restorers luckily. We sub very little out in respect of the restoration and refurbishment of classic or custom motorcycle and cars. Are costs are generally lower than the specialists. We don't have shinny polished floors, advertising memorabilia, boxes of brand new 'Snap On' tools, customer coffee machine (although if you ask we might make you a cup of tea) and immaculate boiler suits, because we don't believe in the bull**** baffles brains concept. We get on with the job as true enthusiasts. As you can see some our machinery is not what the average restorer would have.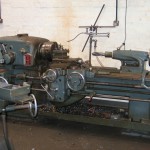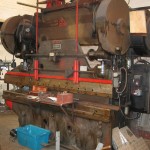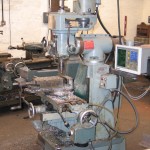 Things to watch out for before you sign up with a classic motorcycle restorer.
Is the company a one man band?

– One person cannot do all aspects of the work and will therefore sub work out and cost you dearly. You will pay for the specialists he knows and uses.

When you walk through the door are you made to feel welcome?

–  Someone who immediately welcomes you and shows interest in the work you want doing wants your custom. He doesn't keep you waiting while he's on the phone in the office chasing up subbed out work.

Is the proprietor happy to show you the machinery they produces the work on?

– If they use excuses like 'that aspect is done at our other workshop' or 'health and safety does not allow you to enter', beware!!

Are there lot of bikes on the premises under construction?

– Motorcycle restoration takes a lot of time to finish a bike off and get it off the bench. If you have been getting parts of your project restored by the same restoration company keep an eye on how other customers bikes are progressing and don't feel out of place asking about them. He may say it is for himself or a long term project. Colin, here at the workshop has a few bikes of his own he works on, as do I. However there is a company I know who has had customers bikes on the workbench for a number of years. The customer of the bike could not afford the astronomical bill and as no quotes were given for the restoration was unable to pay.

Is the propreiter happy to divulge specialist suppliers in his initial quote?

– If they are cagey about this, then they are planning to be the middleman and this will be costly for you. Do a web search and look around for specialists. The honest company will know you may check the price with the specialist supplier and it will unlikely to rip you off. Bare in mind however that quote over the phone and without the specialist seeing them can be considerably different. You cannot quote on something you cannot see the condition of. Some suppliers will give you a very cheap quote just to get you in the door and then add addition costs to bump up the price.

Are they willing to give you a rough cost estimate on the refurbishment of a particular part or the re-manufacture of that part?

– If you don't get a rough quote, listen to their patter. "It won't cost too much" or  "it won't take long to do" are really not much use. Ask them to give you a quote for the most it will cost.

Do they give the old parts back?

– A good restorer will be open and honest with you. He will hand you back all the old parts he has removed to show what he has replaced and show its condition.
Full restorations are very hard to quote on. It is often the case that until a bike is completely stripped that you know the extent of the work that needs doing. A restorer will not a quote for the whole job as there are too many variables in what he cannot see. He is unlikely to quote you a huge price, which would put you off using him, but may have a flat rate for the basic engine strip and build without parts and specialist repairs, which will be extra. If you supply your bike broken down for inspection supplying notes on what you think needs repair he should be able to give you a fairly accurate quote. If he cannot quote on say a crankshaft repair then he will be subbing it out at your expense.
Another pit fall to watch out for is the restorers hourly rate. These mean nothing to the restorer as he can model his final bill to justify his rates. He says his hourly rate is £15.00 and you say that's cheap, do the job. The only problem is he gives you the bill for £150 and says it took 10 hours to adjust the carburettor. As shown earlier in case study no.2, the so called restorers of classic motorcycles are only to willing to make up for their lack of business to rip you off. Remember it is very hard for a classic motorcycle restoration business to survive on restorations of bikes alone. There just isn't enough work to go around, so those that do will want to make the most money from you.
I hope you find what Colin and myself have said to be use in enlightening you on the practices of classic bike restorers. Stotfold Engineering is lucky enough not to rely solely on bike restorations, even though it is our passion. Our versatility allows us to carry out a multitude of different services not only on classic motorcycles. I hope one day you will test our services and would be pleased to be put to the test on the seven points I raised earlier.
Stotfold Engineering looks forward to the comments aroused by this publication from the professional classic bike restoration faternity and prospective customer alike.
By Terry Ives with input from Colin Jones