One of the first jobs I did was to improve on the front brake, which might have been fine for 1969, but not now. The standard fork leg was cleaned, polished and machined to take the special brackets made here by Terry Ives.
It was originally designed by me to take a Suzuki GSXR750 Nissin caliper, but I soon realised the rear of the caliper hits the spokes (yes the brake was designed before the wheel was built – learning curve). Luck would have it that Pretech do a caliper for the GSXR and offer a slim back version which fitted nicely. The keen eyed may have noticed the spindle is in wrong – its just loosely assembled for the photo.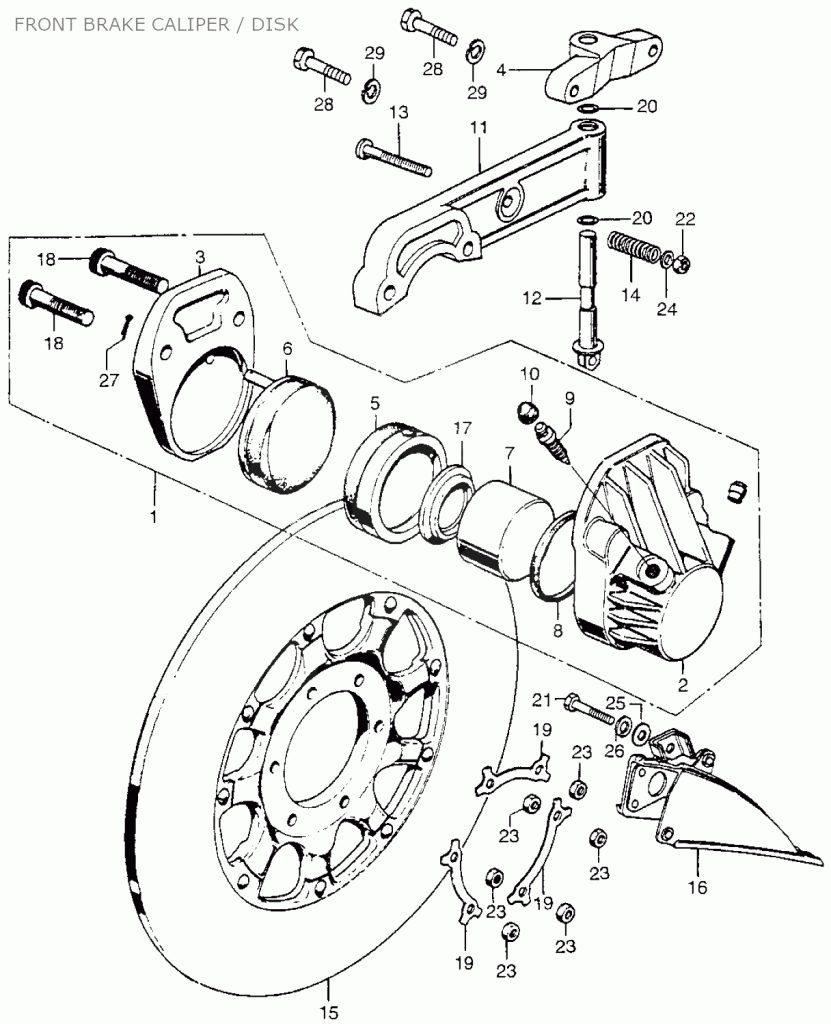 The original front brake was the first production hydraulic motorcycle brake. It has a single sided piston, operating on a pivoting arm. The main problem I had when I was a dispatch rider was that the pivoting bolt (12) would require constant greasing to keep it operating. If neglected the steel pin running in the alloy caliper mount (11) would seize and if you were lucky you might be able to get out with heat. I had one that resisted all attempts to remove it and the only course of action was to get a new mount and pin. I would suggest if you are using you CB on a regular basis, the front pivot should be striped and greased every 1000 miles. Ensure the two 'O' rings (20) are installed to prevent dirt and road grit getting into the pin. Obviously if the pivot is seized the piston will only push on one side of your disc and braking efficiency will be much reduced.
The Rear Brake
The rear brake is used on a later 750 four F1 rear hub and not the standard drum. The brake I acquired at an auto jumble and I'm not sure what its off. The mount was extended with aluminum welding here at the workshop and then aqua blasted in our blasting machine. The Brembo master cylinder was then attached to the custom rear set mounting plate also made here by Terry Ives.
by Colin Jones