Stolen Blue 1998 MK1 Suzuki Bandit GSF600s Motorbike
Registration R243 XAL
My blue 1998 MK1 Suzuki Bandit GSF600s was stolen between the 4th and 5th June from the city Letchworth in Heartfordshire. I Suspect they broke the lock and wheeled it away during the night, because I was able to view security camera footage from a house on the street and no vehicle large enough to carry the bike passed through during the time, sadly the camera wasn't able to pick up the road during the night, so I suspect they took it then. the bike is very special to me, it was a present from my dad and I have put a lot of love and care into it. If anyone knows anything about it please contact me.
My contact details
Terence Ives
Mobile –
Phone – 01767 318 509
Email – t.ives@hotmail.com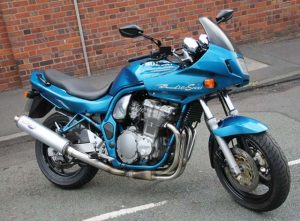 I don't have any pictures of it, but It is very slightly different from the picture above, my bike has the following.
There has been a repair around right fearing around the indicator hole.
The tyres are a set of fairly new Bridgestone Battleaxe BT23.
The bike has done approximately 48000 miles and is of the year 1998.
There is also a chrome grill that goes over the radiator with the words Suzuki on.
The wind shield is clear.
There is a black seat with a blue threaded seam and strap that goes around the middle.
There are marks on the left and right of the fairings paint, which are located near the front of the seat.
The engine is silver but has corrosion that gives it a dirty look.
I'm asking for help.  But there is a small chance you might see it on the road so please keep an eye out for me. Although I suspect the bike would be stripped down into parts and sold, so If you are offered spairs that look like they might be from the bike take their details and please contact me.