Having been tipped off that there was a little Yamaha languishing in a barn since 1980 I decided to drive the 3 miles and arm myself with £300 as this is what the seller wanted. On fist sight I haggled a little as it had been fitted with micron exhausts that were not period for 1967.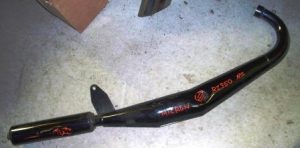 The little twin cylinder was a big hit in the US and not many of them were exported to the UK as we were still running things like bantams. But there were a few dealers that would sell a limited number and the punter who was lucky enough to buy one would be more than mildly surprised at the little machine performance.
In the late sixties Japanese two strokes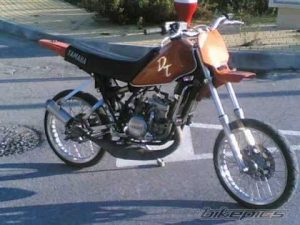 really came into the forefront as they were dominating all of the lighter classes in the "TT" and loads of short circuit races. Yamaha pitched a few over the counter racers such as the TD IC.
Kawasaki also sold the A1R and A7R.
Suzuki retailed the T20 over the counter production racer.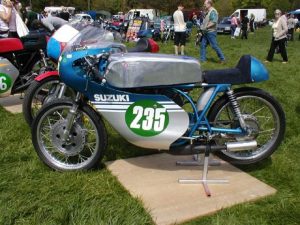 The successes of these machines in production racing allowed the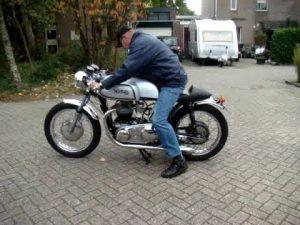 public more choice in owning a lighter, sportier bike for the road other than the Norton Cafe Racer
or a BSA Gold Star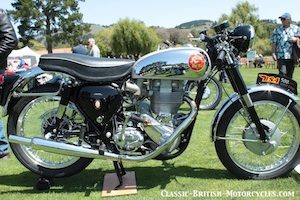 if you could afford one, Triumph Boneville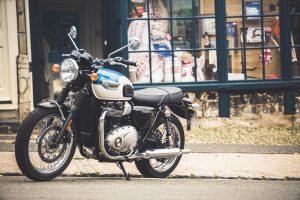 or even a second hand Vincent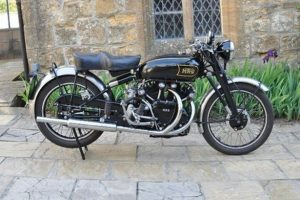 unless you had loads of dosh to buy a new Stevenage built one. A new generation of bikers were going to take the risk of not owning a British machine and were going to purchase a machine that would drastically out perform the choice that there fathers rode to Mallory park to undertake spectating duties.
The little Yamaha with its 98CC displacement sold on the back of there successes in racing and was probably a riskier purchase as it was so small for a twin cylinder, only 49CC per pot but it didn't require a petroleum oil mixture as the oil was metered via a lovely little oil pump that scavenged a metered amount from its separate oil tank fitted with a little oil level window, it all makes sense. The pump was controlled by another cable linked to the throttle and could be adjusted to give a rich or weak petrol to oil ratio. It was best to set it up so as to blow a little smoke just like a typical 2 stroke. When on top revs it shouldn't give out an unsightly trail of smoke not unusually the YL2 could be revamped using a "GYT" kit. The full kit comprised a tank, seat, barrels in aluminium exhaust system sitting at a high level with heat shields for the expansion chambers, GYT stood for genuine Yamaha tuning. The kit when fitted would boost the machine performance to allow it to be competitive in short circuit racing and to take the piss out of stuff on the road that was a lot bigger. If you own a "GYT" kit now consider yourself lucky as there were so few made. The barrels were made of aluminium and lined with a cast iron liner with modified porting. The tank and seat unit were of fibre glass and the expansion chambers were tuned to give a wide range of power. These little engines would withstand a lot more tuning to give better performance that would rank it a championship winner of its time. A standard speed of 65-70 at 8500 RPM and a wide rev band that would be forgiving if you missed a gear and dropped into a higher one, this suited the market that the bike was aimed at.
The bike in its year of manufacture was focused on the new boy to the road who wanted to own a real bike not an ordinary commuter bike and to put it through its paces and get performance in return. The Yamaha YL1 didn't disappoint. Yamaha of course sold the Yamaha YL1E, "E" being the electric start model, WOW. It didn't need electric start unless you were ridged with arthritis but it was a nice touch to make a small bike seem somewhat bigger than a lot of its brothers who sported more CCs.
On opening the engine for full restorative surgery there wasn't anything surprising as it was rock solid in construction and mechanistically wouldn't have been out of place in a Yamaha 250CC I would even say it's embarrassingly too strong in construction for what it has to do on the road let alone if tuned for the race circuit. The barrels although not over ported had so much scope for irresistible tuning as well as the exhaust system that muted the Yams performance, no doubt.
The crankshaft is a little work of art and so solid in construction although difficult to take apart unless you posses the correct factory tooling. this is not so as very simple tooling is needed for a crank split and rod change and then the same tooling can be used to press it all together. Here is what I found when stripping my engine down to the bones, one busted gear in the gearbox unsurprisingly it's the first gear.
Worn pistons, rings, barrels, funny shaped internal crankshaft rubber seal and all the other rubber seals throughout the engine were exhausted due to long term non use. Pistons and ring sets are easily available in the US, Thailand and Singapore but they so crop up in the UK. It's unlikely that you would need new conrod and bearing kits in original greases filled packages they are readily available from Thailand. If you require a complete crankshaft unit it can be a little tricky as there are lots of rusty ones, although new old stock, they will still need a bit of work to get them usable.
Gearbox internals are readily available in fine used or new condition, so no costly worries so far. The expensive bits are normally the cosmetic parts such as tank badges and the bits and pieces of rubber oddments that adorn the bike. One real expensive piece of rubber is in the heart of the engine. This rubber moulding separates the two crankcases from each other, prices range from £90 + post and such from the US, but if you look on Yambits parts on the web and get the part number and Google search it, you may get lucky and find one in Thailand as I did for £17 delivered.
All other seals can be got from bearing suppliers as they are nothing special as long as you supply the old one as a sample. Seat foams are not available but if you buy a Hap Jones seat cover and take your finished bike to your local vehicle upholsterer to carve the foam and fit the seat cover you won't be disappointed as it is one of the last jobs to be carried out.
There are very few petrol tanks floating about on the market that are in good condition, they usually have dents in the chrome area as did mine, 4 hours work on my tank restored the dented areas.  The tank was then painted in the original colour of peacock blue as used on the pressed steel frame along with the silver paint. On some models the front mudguard was painted silver rather than chrome but both retained the pressed steel anti splash guard at the trailing end of the mudguard. It seems that some of the YL1s were painted rather than chromed, maybe the painted models were to be exported to the UK market and the chrome was saved for the bigger US market or maybe it was based on the year of manufacture. As manufacturers forge links with a given market they most probably put out there most glitzy pumped up model with all the tassels and chrome to the biggest buyer and then step down a notch to the smallest of importers, who knows?
there were indeed differences in specification regarding lighting and exhaust spark arresters fitter to the exhaust system as apposed to UK specs, spark arrestors were fitted to US models as was a slightly different tail lamp design. Not much hope of starting forest fires in the UK and we didn't have to have our lights on when riding during daylight hours. After stripping the engine down and rebuilding it with no compromises including the entire fittings made from 316 stainless steel it cost me £1500 to gain perfection and ended up better that new. In hours and parts.
Here are some pictures of my Yamaha YL1.