Working in partnership with a proud owner of a Velocette KSS was a bit of a challenge in regards to timing. We generally finish work at 5pm but we can hang on until 7pm or 8pm to suit the customer's needs. He worked in London and would not get home until 7:30ish. So on his way home he would drop into the work shop and tell us what he required. The first challenge was the carburettor (MDY15), parts such as the slide, choke parts, pilot jet ECT were not freely available so we made all new parts in a very good quality brass. Unfortunately we did not carry out the engine restoration as the client wanted to do it himself. I love Velo engine rebuilds they are a little work of art and designed not to break easily. Parts such as inverted levers had to be repaired to Bowdens specification. All the levers were bright nickel plated as was the norm in 1928.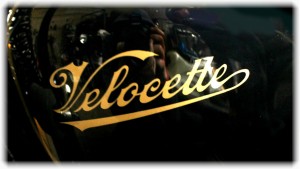 The painted parts were all hand painted with enamel and a very good quality brush "you would think it had been sprayed". The wheels were built by us and the spokes were rejapanned to original spec. This bike was not to be built as an immaculate show winning piece of glitz, it was being built to run but most of all it was to have all the correct parts as was used in this year and model of KSS Velocette. Sourcing parts would be difficult as they would be in such poor condition or outrageously expensive, finding the right parts can take months of searching.
The were subtle differences in parts such as break pedals and footrests from other models such as the KTT Velocette. Parts are often claimed to be KSS on eBay and sales in general. The seller may be innocent of any dishonesty as he may not spot and difference between KSS or KTT or particular years. Many restorations have been competed without the owner knowing that he has fitted the wrong part, but mind you, unless you are a Velo purist and know your stuff, hardly anyone would notice those cables that are 4 inches to long or the front suspensions knurled washers is employing the wrong knurling pattern or maybe a brake rod that is 6mm in diameter instead of 1/4".
Owners of early Velocette generally know there stuff, there is a very strong Velocette owners club and a few specialists that know what they are talking about such as Ivan Rhodes. I have to name drop as I hate saying the words, customer, client and such. Greg has immersed himself in the history of his Velo and has gone into such detail in  as much as all nuts and bolts are blacked, not plated or painted, they will go rusty a little quicker if not kept oiled but they are as original as one can get including the markings on the bolt head. Purism is a healthy illness in as much as it sets a benchmark for other to attain and better in the future. Yes there is a lot of purism out there restoring with incomparable detail, there RD350, Suzuki GT 380s and Honda CBs with there olive green coated nuts and bolts. A lot of the parts for these models are available aftermarket or original if you have got the dosh to spend.
Gregg KSS sets the standard for those older bikes, "yes it's easy to get an old timer machine up and running within a relatively short time", But what one will end up with is a bit of a "Bitza". I hate seeing bikes in the national motorcycle museum with the wrong parts on them. Life is to short, all you need to see is an overall view of what the machine would have looked like in its heyday. The rarer the model and the more incomplete it is, the more one has to research its history before it's lost through "bitzaism".  Hats off to Greg in his endeavours in producing his recreation of as near as you will get, original 1928 Velocette KSS, and for asking Stotfold Engineering for its involvement in his quest.
Cable routing can be a bit of a problem as there are 6 of them, quite common on vintage and veteran and vintage machines. There are Pictures in books magazines and old adverts from the 1920s but from what I can see is a host of different methods of laying them out, I wonder if anyone rely knows the original layout? Anyway I like to route my cable so as they can be tucked away but not at the behest of nice long curves which give nice smooth actions to the levers. The clutch cable on the Velo KSS is a bit naughty, as it enters the top of the gear box which lies a little close to the bottom of the oil tank, this produces and unpleasing and unnatural bend in the cable. What is needed in this situation is a curved bit of steel or elbow fitted into the clutch cable adjuster on top of the gearbox.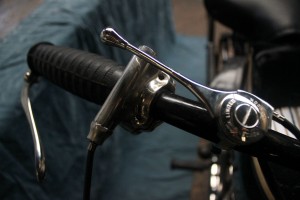 The front cable is an unusual affair as it operates a rod near the brake plate.
If the rod and adjuster parts are missing in your restoration it may be difficult to work out the dimensions of the parts to get it working correctly. The only part of the whole motorcycle not to be skipped on is the front brake, it has to be manufactured and designed in the correct way with no compromise, and this applies to all motorcycles.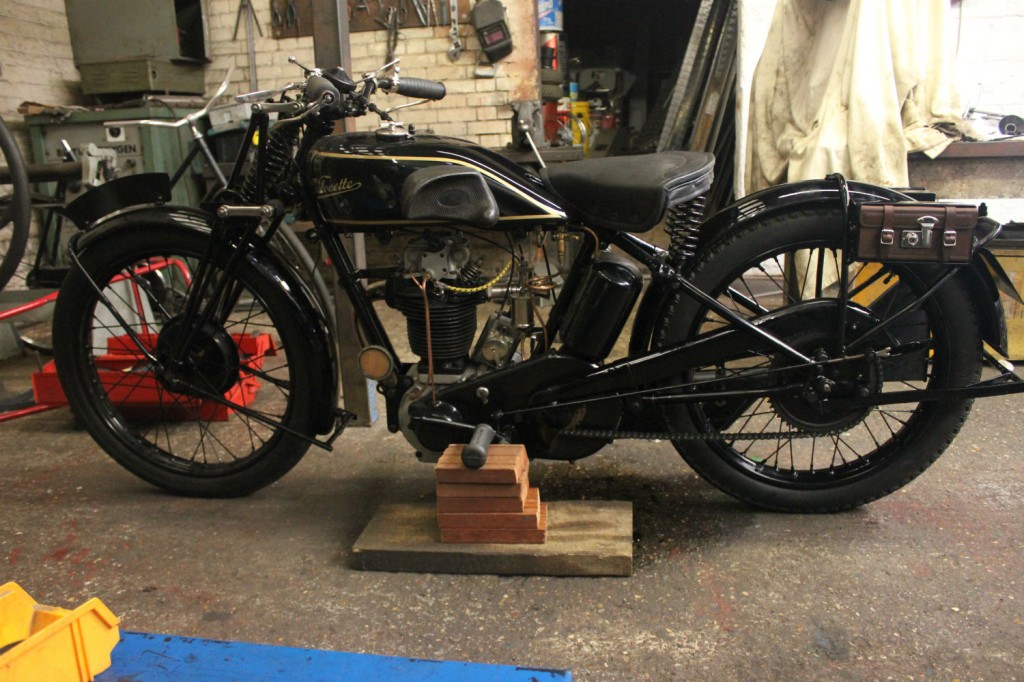 prepping a MK1
Velocette OCH engine:

Prior to starting the engine the following items are required for the
setting and recording of the engine oil pressure:
1. Cam box bevel drive inspection plunge drilled and tapped to 1/8"
B.S.P. thread.
2. 30 psi oil pressure gauge.

The first step is to fill the oil tank (approx half way) and open the
tap; oil the valve steams and tappet skids; remove the spark plug and
pour a little oil down the barrel. Then pour oil into the top of the
cam box bevel housing and turn the engine over until full to the bevel
box plug height.  Once this has been done fit tapped plug complete
with oil pressure gauge, put the bike in 2nd gear and with the spark
plug out take the bike for a walk. When the noises from the engine
goes from a light clatter all is then in reediness to stat the engine.
Check the oil pressure and if reading in excess of 15 psi adjust by
screwing out the oil pressure adjuster.  Run the engine briefly and
check oil return is slightly intermittent with air.  Hot oil should
run at no more than a dribble from the cambox.  Adjust oil pressure to
approximately 8 psi when the oil is hot, when cold the pressure will
be slightly higher.  Once the engine is hot shut it down, allow to
cool then check tapped adjustment remembering to record the gap.
Hey Terry,
Rick Wallace here, I live in western Montana, and just looked at your write up on the 1928 KSS rebuilt for that customer. Very very cool !!!
I really like the early Velo's, so have a few pre-war ones, and a Venom I bought new in 1969. Am looking for an MOV presently. ???
Wanted you to see what I restored here in Monty a few years back.
Yes I know it is not all totally original stuff, but close as I could make it going from pictures and such, and living here in Montana.
Mine is a 1926 MK1 (according to engine number and Mr. Rhodes)
(just wanted to place the tach on it and I had to make the tool pouches myself, the pipe, the fender stays, and a bunch of other parts in the motor).
Hope this finds you well over there, and not into too much winter as yet. Best regards…..rick

Hey Terry,
Good to see your note back. Wasn't sure how busy you are.
Wow, lots of Velo stuff going on with you. Good deal.
I understand about the old paint you are dealing with on the Viper stuff, miserable to remove thanks to someone that just doesn't get it when it comes to restore stuff.
Wish I could afford a KTT of some sort.
I've had my '26 KSS for about 37 years, and love to ride it. Just with weather issues here, I only get it out a few times a year. Have other Velo's that I trade off riding so the KSS on;y gets it once in a while.
Here is a few pics of my '33 GTP, a real nice riding little bike.
Also have a nice early chair that I put on the MSS. Will send off a few pics next email.
Hope this finds you busy, but out enjoying some rides occasionally.
ttfn.....rick


velocette pictures 
vellocette 1935 350cc MSS with side car.

This is a picture of Rick Wallaces vellocette 66 Venom