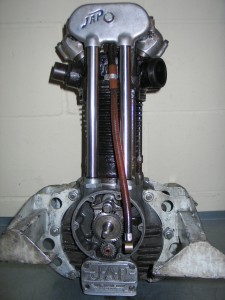 Following a steady season in 2009, when significant improvements in times had been achieved, I decided that some more speed was required so asked Terry Ives to investigate the compression ratio in the JAP engine. I had thought, but never checked, that I was running at about 13:1 which is at the lower end of what can be expected. I was somewhat shocked therefore when Terry informed me that it was actually about 10:1 and then delighted when he said he had raised it to 15:1 which is near the top end of what is achievable with the engine.
So it was with hopes high we set off for Wiscombe Park down near Honiton for a weekend's competition, with the 500 Association event on Saturday and the VSCC event on Sunday. Saturday dawned cold but dry and we attempted the usual procedure of doing the first start, always a dodgy procedure with rather temperamental JAP engines, by running down the hill into the paddock. Only when we reached the bollom after several failed attempts did we spot that the fuel taps had been off all the time – oh dear. Matters did not improve during the dayvery much as a new, ie different, carburettor body which had been fitted without much thought proved to be all outof adjustment so that the engine was either running flat out or not at all.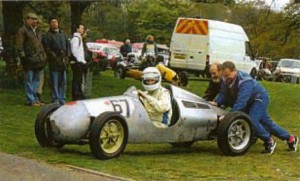 Not ideal when there are a couple of very sharp hair pin bends to negotiate. The best run proved to be the second practice run which showed some improvement over 2009 but everything else was slower. Worse was to follow!
When in Devon, B&B is provided by my brother and repayment for a days pushing and a bed is usually a meal at the local. Upon arriving back at his I discovered my wallet was missing – everywhere was searched several times to no avail. This meant I had no cash (crucial for the autojumble) no credit cards (maybe no bad thing) and most importantly, no competition licence for production at signing on in the morning! Now No.2 Brother had also been competing in his MX5 and everyone had gathered at my spot in the paddock. After I had signed on I had put my wallet in what I had thought was one of my bags – wrong! In fact it was one of Nigel's and he was on his way back down to Cornwall. A phone call established that he did in fact have it before too much damage had been done by way of cancelling cards etc but it meant competing on Sunday was out of the question.
The next outing was in July, at the Classic meeting at Shelsley Walsh in the Malvern hills, a wonderful place which is the oldest motor sporting venue with a continuous history in the world. A visit should be on your list of 10 things to do in your life. An average sort of time for a 500 here is around 40 to 45 seconds with quick types getting down to 35 seconds. The day proved to be quite satisfactory with some gear selection bothers spoiling the first runs meaning that I could not get under 50 seconds. Everything came together on the final run when we just cracked 48 seconds. I was still smiling on the following Tuesday. This is counted as a triumph and we looked forward with great anticipation to the next event, also at Shelsley when we hoped for even greater things. Sadly this was not to be as the wheels came off, literally as the trailer shed one of these rather important items. Fortunately this was at the Henlow roundabout only a couple of miles from home and no damage occurred to the Cooper. Recovery was effected through a splendid RAC man who also organises recovery on the London Brighton run and Paul Clarke of Autoshift in Stevenage, who also runs a Morris Minor van – these old car types get everywhere.
Ebay came up with a new trailer so we set off to Gurston Down near Salisbury for the next episode. Gurston is a splendid place set in a valley with the start on one side so that you go downhill for some distance before tackling a sharp right hand bend followed by a sharper righthander and a left to take you towards the finish. The place is a working farm and the farmyard doubles as the paddock on race days. The 500s assemble next to some old sheds because that bit is on a slope making push starting easier and those sheds contain treasure in some quantities. A V8 Rover head could be seen, with remains of all sorts of other things however time is always tight so inspection is usually limited to the visual.
So there we were, 5 in the class, one we knew we could not beat, two we thought we could and the fourth was an unknown quantity. After practice we were third quickest and not too far behind the second car so with hopes very high and after a good lunch we set about the proper runs in the afternoon. Ah well – first run – rocketed into the first righthander and promptly found we were facing the wrong way! Pushed up the escape road by the ever friendly marshalls and returned ruefully to the paddock to face a quizzical bunch enquiring as my whereabouts. Still It does show you are trying when you do spin it and if it's good enough for Lewis Hamilton etc etc. Second run went better but one of the chaps I thought I could beat had a demon run on the first session so we ended up 4th and a bit disappointed.
Final event was the Prescott Classic, in the Cotswolds, normally one of my favourite places. 13 cars entered and we had our eyes set on a top ten .finish! Suffice it to say it rained. The driver bollied it altogether as the track was soaking wet durrng practice and when it started to dry out eventually, the gearbox played up again and we had a miserable time on the track but great fun off it as it was also set up as an American weekend. Elvis was in the arena but was not very good. A delightful ladywas also singing – if you closed your eyes it could have been Brenda Lee – I will explain later for those not into proper music! Lunchtime included a parade by members of the Vintage Hot Rod Association some of whom had been competing at the previous day's event.
So there you have it some triumphs, plenty of disaster but all part of running a 500cc racing car. My thanks go firstly to Terry Ives who looks after the engine for me. It has never let me down and goes faster each time he gets his hands on it. Stotfold Engineering comes highly recommended – have a look at his web site. Thanks also to every one who came and acted as pusher – Mrs H and John and assorted family members. Now to next year ………………… any volunteers?
Article by Tony Hodson for 'SPARKPLUG' – the magazine of the Letchworth Garden City Classic & Vintage Car Club.